ERIC News Release
For Immediate Release: August 28, 2013
ERIC Releases Results of a Poll on Benefits Offered to Same-Sex Couples
Washington, D.C. – The ERISA Industry Committee (ERIC) today released the results of a poll of its members regarding the Supreme Court's decision that section 3 of the Defense of Marriage Act (DOMA) is unconstitutional. This DOMA decision has had a widespread impact on the health and retirement benefits offered by many ERIC members and, in some cases, on their federal tax treatment.
The nine-question poll was conducted over the period August 20 to August 27. Approximately ¾ of ERIC members responded to the poll.
"ERIC's members are really struggling with the fallout from this DOMA decision", said ERIC President and CEO Scott Macey. "The big issue, one that dwarfs almost all others, is what to do in states that do not recognize same-sex marriage. Our members really need to know what the rules will be before they can fully implement any new benefits strategy, especially those with calendar-year plans who will soon be in high gear for enrolling members for next year."
Mr. Macey went on to add that ERIC decided to conduct this poll to let its members know what other large employers were doing in this sphere and what benefits changes they were planning to make as a result of the Supreme Court's DOMA decision.
"I was not surprised to learn," said Mr. Macey, "that nearly ¾ of the ERIC members who responded to our poll have not yet decided how to handle the benefits of spouses of same-sex marriages in states that do not recognize such marriages. For most of these employers, guidance from the government is crucial."
In response to the question "Will you consider same-sex spouses to be married if they live in a state that does not recognize same-sex marriages?", ERIC members responded: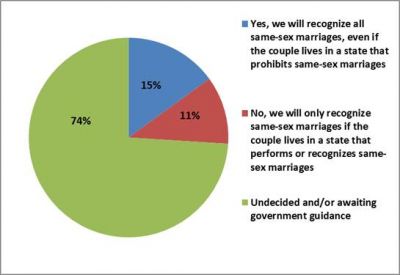 The poll also questioned ERIC members with respect to benefits offered to domestic partners and partners who have entered into civil unions, and asked whether changes to benefits offered to individuals in these relationships are being considered as a result of the DOMA decision.
For a look at the complete poll results, please go to: ERIC DOMA Survey Results.
###
For more information:
Gretchen Young
Senior Vice President, Health Policy
The ERISA Industry Committee
1400 L Street, NW, Suite 350
Washington, DC 20005
Phone: 202-627-1920
gyoung@eric.org
www.eric.org
Debra Davis
Vice President, Benefits
The ERISA Industry Committee
1400 L Street, NW, Suite 350
Washington, DC 20005
Phone: 202-627-1925
ddavis@eric.org
www.eric.org

The ERISA Industry Committee (ERIC) is a non-profit association committed to representing the advancement of the employee retirement, health, and compensation plans of America's largest employers. ERIC's members provide benchmark retirement, health care coverage, compensation, and other economic security benefits directly to tens of millions of active and retired workers and their families. ERIC has a strong interest in proposals affecting its members' ability to deliver those benefits, their cost and their effectiveness, as well as the role of those benefits in the American economy.